Preferred Limousine Has Created an Original Limo Tour of Various Landmarks & Neighborhoods of NYC
We are the innovators of this Limousine Tour… not Offered by any other Limousine Service or Tour Service!
WE GUARANTEE THAT YOU HAVE NEVER EXPERIENCED ANYTHING LIKE IT BEFORE!
You will Travel to many Destinations in One of Our Limousine's for a day packed with SECRETS that many are not aware of! This is a Fully Guided Tour w/Narrations. 
You will vote on which places to Taste or Dine at the Best Authentic Restaurants NYC has to offer.. from Pizza to Seafood
NYC Limousine Tours. Preferred Limousine NJ. Limo. Tours. Events
    These are just samples of some of the destinations… each one holds MANY Secrets that most people are not aware of
SECRETS OF LITTLE ITALY  
Did you know that the Meatball doesn't even exist in Italy? It's Birthplace is right here in Little Italy by Southern Immigrants.
---
SECRETS OF GRAND CENTRAL TERMINAL  
Did you know that every single time on the departure board is Wrong? All trains leave a minute later than indicated on the departure boards. The reason is the safety and comfort of commuters who are making a mad dash to catch the trains.
---
SECRETS OF THE BROOKLYN BRIDGE
Did you know that When the Brooklyn Bridge was still new, New Yorkers were apprehensive about walking over it, to say the least. When the heel of a woman's shoe got caught in one of the planks less than a week after it opened, on May 30, 1883, her screams set off a stampede. Those around her assumed the bridge was falling and panicked. The rush to get off killed 12 people and injured about three times that.
---
SECRETS OF ROCKEFELLER CENTER
Did you know that the Ice Skating Rink was supposed to be a temporary exhibit to fulfill the unquenchable thirst for publicity at Rockefeller Center. But when it opened in 1936, the ice skating rink in the lower plaza was an instant success. To keep the ice smooth even in warm weather, a brine solution circulates through five miles of pipe below the terrazzo floor. The pond is over 100 feet long and over 50 feet wide; it fits only 150 skaters at a time. In 1949, the Saturday Evening Post reported that Rockefeller Center was raking in $80,000 a year from allowing skaters on the ice rink.
---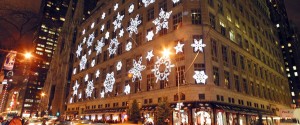 SECRETS OF SAKS 
Did you know that Saks Fifth Ave had a Secret Tunnel that connected the 5th Ave store to Rockefeller Plaza? Or that Saks has its own Stamp & Zip Code 10022-SHOE?
We have a Long List of Destinations & Secrets. Depending on the length of Tour and Dining, you will choose some or all of the locations.
---
Please call For Rates & Info or to make a Reservation.
800-713-7750